"P-51 Mustang"

Union Models ARF
Specifications
| | |
| --- | --- |
| Wingspan | 780mm (30.7") |
| Wing Loading | 46gm/dm 2 (14oz/sqft) |
| Flying Weight | 490gm (17 oz) |
| Motor | Union Models 'Reno F-1' with 3:1 gearbox |
| Propeller | Union Models SR-180 180 x 145mm (7.1" x 5.7") |
| Speed Control | 10A with BEC and brake |
| Battery | 6 x Sanyo KR600AE (7.2V) |
| Receiver | Hitec HFS04Mi+ |
| Servos | 2 x Hitec HS81 |
| Controls | Aileron, Elevator, Motor |
| Construction | Molded Depron |
This is an 'ARF' kit is made by Union Models in Japan. It is mostly made of Depron foam, with a few polystyrene and nylon parts. The kit also includes a motor, gearbox, battery, pushrods etc. The wing already had ailerons and torque rods installed. I only had to glue a few parts together and add an Rx, ESC and servos. Even so, it took me a whole year to build it!
Rather than use the supplied decals, I painted the model in US military colors using Tamiya acrylics. The insignia were printed onto paper with an inkjet printer, then cut out, laquered and stuck to the model with 3M Super77. I fixed the rudder as the wheels are too small to take off from our grass strip. This saved one servo and a bit of weight.
Maiden flight was a success on Christmas day. The Nicad battery is old and its measured capacity is down to 400mAh (how long was it sitting on the dealer's shelf?). It cut out after only 2 minutes. However, there was plenty of power available during this time, and on my second flight I managed a nice loop. Control is quite smooth and responsive with no nasty habits noticed. I was able to slow right down for gentle landings (the wings have washout built-in, to prevent tip-stalls).
As suggested in the instructions, I removed the undercarriage for flying. This could cause damage if the propellor stops in a vertical position while landing. I was lucky as it stopped horizontal both times. Hopefully in the future I will be able see the prop orientation and blip the throttle if needed, as only one spare prop and shaft were supplied...
Heather took some movies of the event, but my 10MB website space is almost used up so stills will have to do for now.
| | |
| --- | --- |
| | |
| My friend Ian Lewis launches for maiden flight | Second hand-launch (a bit steep?) |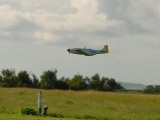 A low pass for the camera
Update: 31st March, 2002
I built two new battery packs, which work much better than the original. Using the same configuration (6x600AE), I now get flight times of over 6 minutes!
Once, while my attention was focused on trying to get the prop horizontal before touchdown, I landed a bit fast and cracked the rear wing mount. So now I just make sure to slow right down with a good flare. Several times the prop has been vertical but no damage so far...
I made the mistake of leaving the model in the boot of my car on a sunny day. Even though it was covered with a cloth, heat buildup caused the cowl and bubble canopy to warp.
---